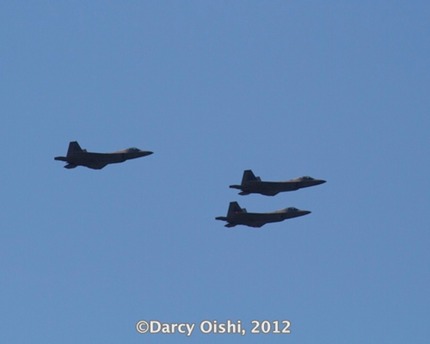 It was yet another tribute to Daniel K. Inouye today. There was a part of me that wished I could be there, but seeing how rude people were, holding their smart phones and tablets and everything else to take videos and blocking the view of other people, a part of me was glad I was not there. That, however, is a different story.
Much can be said about the Senator and his impact. The man was bigger than life and I think no one will truly understand how he shaped our world, and I do mean world, not just Hawaiʻi because his impacts extend beyond our shores. He worked tirelessly and some will call him a politician, but that word is loaded with bad connotations. He was a public servant of the highest order, a statesman, and more importantly, a man that was true to himself. 
I was glad I missed the tribute live. I wanted to get a picture of the missing man formation, F-22 Raptors flying above Punch Bowl. The F-22's are a legacy of Senator Inouye, a desire to keep America's military strong. I didn't get the photo that I wanted, but I think I did OK. 
You see, I wanted to capture the missing man formation because it says so much. We lost a man. As the Greatest Generation fades into the light, and the last of the 442 Go For Broke fade too, we have to take up the burden and begin to LEAD. We have to be bigger than what we are. We no longer have the shoulders of giants to support us. We must support ourselves now. With political wrangling and partisanship the norm, it's about time we learned from the leaders of our past and worked together. That's what they fought for, bled for, died for. Why should they have sacrificed so much only for us to screw it all up? 
Of all the speeches made about Senator Dan Inouye, perhaps the best one was made by the one person who knew him best: his chief of staff, Jennifer Sabas said it best. Her words speak for themselves.